As many of you know, May is the height of spring migration at Presque Isle State Park. I've tried to get down there as much as possible this month but couldn't make it Sunday as my hubby and I had made plans with friends to head out to Linesville Marina. We rented a pontoon boat and motored out onto Pymatuning Lake. I was a little bummed that I couldn't get out to PISP but not for long after I saw what Pymatuning had in store for us. First, as we were heading out towards the spillway I spotted an immature bald eagle in a tree in the distance. My boatmates indulged my request to head closer to the eagle. Of course, he took off once we got a little too close. We followed him to his next post and it must've been his lunch time because he dove from his perch and caught a nice fat sun fish. I was able to get a couple of decent shots but naturally would've preferred to be closer.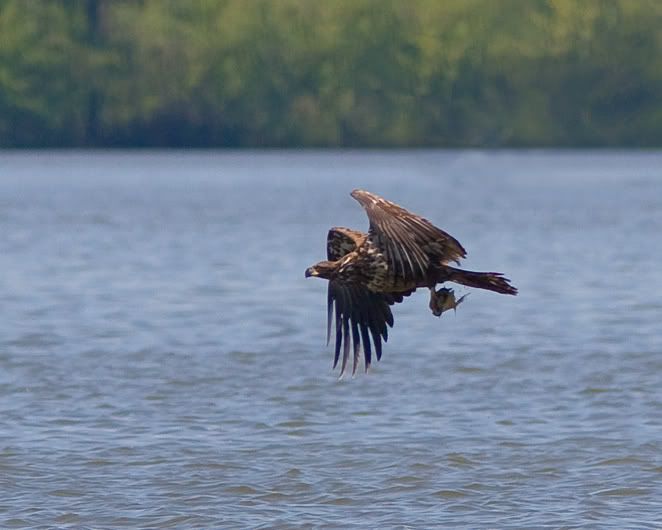 After about an hour or so on the boat we docked to have some dinner on the Ohio side of Pymatuning. Just as we finished I saw what I thought was an owl fly up from the roadside into a tree. "No way!," I thought to myself, "an eagle and an owl?!" Of course, I had my binos with me and was able to see the back end of what I thought must be a barred owl. After spouting an expletive, I got up and walked the 100 feet across the park and street and into the woods to find the owl. Did I mention I have very understanding friends and family? After several minutes of searching in the dense underbrush I flushed the owl out. I was able to watch him fly away but did not see where he was headed. I tramped through the woods several yards and noticed an owl box high up in a tree above me...and just several more yards away sat...the barred owl!! I was not at a good angle to see his face or get a photo so I hiked a little deeper into the woods out around him to get a shot from the other side. He was actually quite cooperative and posed for many shots. Knowing my family and friends were probably ready to shove off I headed back to the picnic table. I showed them the shots I had gotten and encouraged them to come up and see the owl. My hubby and daughter obliged and got a good look at the handsome owl. Naturally, as long as I was there I took a few more shots.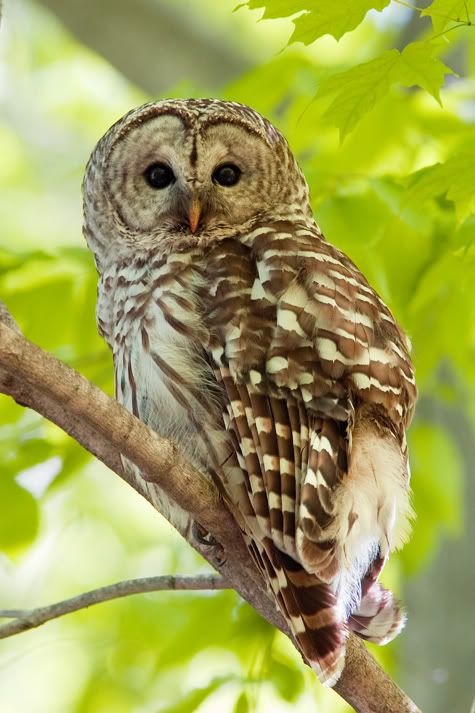 We did shove off after that and we saw many more cool things including some common terns, cormorants, and many ring-billed gulls. We had a terrific time with our friends, Barb, Ed, Rick and Christine, oh, and of course, Zena. My grandson Emory (aka The Firstmate) proved himself a worthy seaman and actually walked a little better on the boat than on dry land!